The goal of our research unit is to develop and refine glaucoma surgical techniques to make them less and less invasive. We are committed to continuously improving the quality of life of our patients by perfecting the ophthalmic care we provide.
The Swiss Eye Centre is involved in glaucoma research for many reasons:
Glaucoma is the leading cause of non-reversible blindness in the world: a chronic disease - called the "silent thief" of sight because most patients are asymptomatic - this pathology is still poorly understood and its progression leads to vision loss over time.
Optic nerve damage is impossible to restore: high intraocular pressure (IOP) and fluctuations of fluids inside (aqueous humor) and outside the eye (blood flow) cause this damage. Reducing IOP, whether by medication or surgery, slows the progression of the disease and is the only approved method of treating glaucoma.
Drop therapy greatly affects the ocular surface: compliance is the key to effective glaucoma control and is a major challenge for physicians.
Topical hypotensive treatment of glaucoma has adverse effects: conjunctival hyperemia, discomfort and itching are one of the main causes of non-adherence to treatment.
Damage to the ocular surface can lead to long-term irreversible changes, such as thinning of the conjunctiva, and could compromise the outcome of various glaucoma surgeries.
Current guidelines recommend surgery to maintain visual function and quality of life for a longer period of time.
The current research project, led by Dr. Adriano Guarnieri who has been overseeing clinical research at Swiss Eye since 2019, focuses on the evolution of glaucoma and the ocular surface.
OBJECTIVE: To study ocular surface health and the clinical course of glaucoma.
BACKGROUND: The primary goal in the management of glaucoma is to preserve patients' quality of life by maintaining visual acuity and decreasing the side effects of anti-glaucoma therapies. Minimal Invasive Glaucoma Surgeries (MIGS) aims at predictable physiologic anti-glaucoma procedures with low complication rates and minimal tissue destruction. We believe that future research should take into consideration the impact on patient quality of life.
QUESTION: Are MIGS effective while improving the quality of life of the operated patients? Our center aims to answer this question while providing the highest quality of care and potentially adapting these new micro-invasive techniques for glaucoma surgery as a first line of therapy. Our research may ultimately lead to providing a more appropriate treatment for our patients, with improved tolerability resulting in a better quality of life.
Discover all our front page publications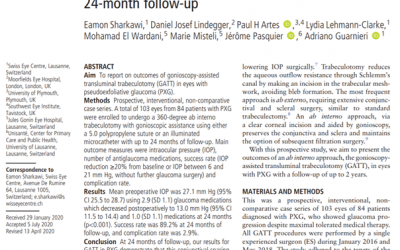 Outcomes of gonioscopy-assisted transluminal trabeculotomy in pseudoexfoliative glaucoma: 24-month follow-up. Br J Ophthalmol. 2020 Jul 29:bjophthalmol-2020-315954....
read more